June 2013: Analysis by consultancy WSP in their report – 'Solar Success: Space Not Cash the Key for Solar' reflects previous posts by Energy for London (see here and here), highlighting London's poor progress when compared to other regions in relation to the installation of solar photovoltaic systems.
The conclusions summarise the Feed in Tariff Installation report data, produced by energy regulator Ofgem, highlighting local authority installations per 10,000 households.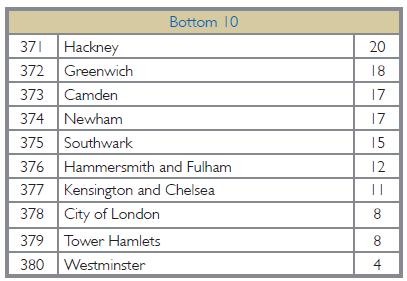 The analysis shows that London boroughs make up 23 of the 25 lowest ranking local authorities for solar installations and the entire bottom 10 in the national league table. Westminster, Tower Hamlets, the City of London, Kensington and Chelsea, Hammersmith and Fulham, and Southwark are all found in the bottom five.
The report points out that: "Even The Orkneys at 232/10,000 houses comes 55th out of 760 on installation rates – higher than every local authority in Surrey, Kent and London – areas which receive much more sun than Scotland. To get most bang for buck, incentives should encourage the sunniest areas to get more panels than the furthest north. This, however, isn't the case – the reality of politics over good green policies."
Reasons for London's limited success with PV  put forward include: "While we might think that cities should be happy hunting grounds for solar sales, in reality houses in towns are smaller, their roofs are more likely to be obscured and there's also less owner occupation."