March 2013: Ofgem's new FIT quarterly report provides an update on the take-up of Feed in Tariff eligible technologies across the UK. London (as at 31 December 2012) has a total of 39.38 MW of FIT renewable capacity installed – as with the rest of the country, the vast proportion of this capacity is made up of PV (99% in London).  This is an increase of 4.25 MW of capacity over the previous quarter.
Progress remains slow in London which  – with the North East – trails all other UK regions by a significant margin. See graph from FIT report below highlighting the number of installations by region.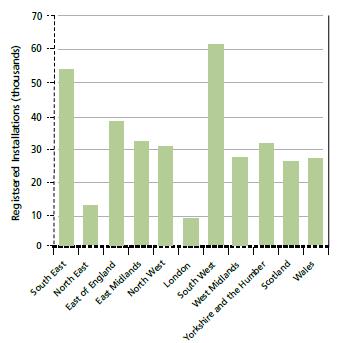 Previous posts discuss London's slow performance on FIT take up here.