January 2013: With the publication of Ofgem's new  FITs newsletter (Quarterly Report 10 – December 2012 which looks at data up to September 2012) – it's useful to look at back at the data over the past 10 issues and see how the capital has been faring under the programme with respect to most appropriate of the FIT technologies – photovoltaics (ie PV or solar electric). It should be noted that PV makes up 98% of FIT installations and 90% of total FIT generation capacity installed (see the newsletter for full details).
Previous posts (here and here) have looked at various FIT data sets and highlighted the fact that London has had the lowest capacity of PV installed of any region.
Plotting the installation rates of PV capacity per region per quarter (as provided by data in the Ofgem newsletters) since the FIT programme started (April 2010) provides a comparison of not only how low London's capacity is compared to other regions of the country (London is the line skirting along the bottom, just below the North-East), but also how the various regions reacted to the sudden and major change in FIT tariffs (a good summary of which is in the following Guardian article).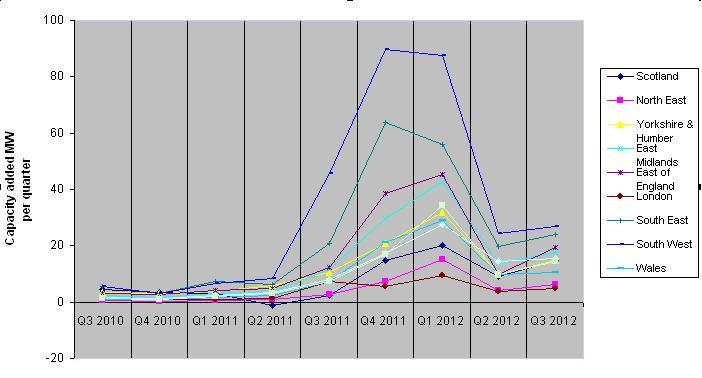 The majority of regions witnessed a significant'spike' in the number of PV systems installed as a result of the Government's announcement that there was to be an near-immediate reduction in the FIT tariff level for PV.  However, in London, though there there was an increase – it was incredibly modest compared to nearly all other parts of the country. Does this reflect:
A low level of interest in PV by Londoners?
More renters and more flats in London reducing demand for PV?
Perhaps only a small number of companies are offering PV in the capital?
Less knowledge in the benefits of PV by Londoners?
Or are PV companies more attracted to doing business outside London – ie cheaper staff, less hassle factor, easier to put up scaffolding etc etc – more installs mean more money for them?
Whatever the reason, the potential of the most appropriate of the renewable technologies for London is currently being unrealised. The GLA's 2012 London renewable energy study estimated that PV has the technical potential to supply up to 19% of the capital's electricity consumption.
NB More recent data – up to December 31 2012 – is available in Ofgem's latest  FIT register database of 8 January 2013 (link  to the Excel spreadsheet here – it's a big file at 39MB with around 350,000 separate entries for FIT installations across the UK). The database indicates that of the 31MW of PV capacity in London, the vast majority – around 27 MW – comes from small scale household installations.