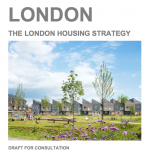 December 2013: The Mayor's recently released draft housing strategy states that "The capital also has some of the worst housing conditions in the country, thus prioritising estate based regeneration through improving the quality and energy efficiency of existing homes remains a key priority. To achieve this the Mayor will make available funding to ensure that by 2016 all council landlords will be in a position to independently resolve their Decent Homes backlog, and will support affordable housing providers to retrofit their entire stock for improved energy performance by 2020."
Section 2.6 of the consultation paper directly addresses 'Retrofitting and improving energy efficiency' and provides some useful information on the Mayor's ambitions for his flagship environmental programme, RE:NEW:
"To increase retrofit numbers under the government's Energy Company Obligation (ECO) and Green Deal schemes, the RE:NEW programme has put in place measures to assist all large landlords in London to identify works that can be carried out to their stock, procure the works, access finance and manage contractors. This support will continue until at least 2016, maintaining the momentum for the successor ECO arrangements. The GLA is keen to expand retrofit activity on a more strategic area, or even whole borough, basis. The Green Deal also represents an innovative way to finance energy efficiency works which saves money for individual households. The Mayor will continue to promote the opportunities that the Green Deal offers to Londoners across all tenures. As Table 1 shows, the projected rate of delivery in London is therefore expected to increase significantly over the next three years. "

All of this may however change markedly following the Government's recent announcement that it will scale back the level of support going to insulation through the ECO as well as significantly reduce the level of solid wall insulation (SWI) installations: the boost in support to SWI systems was often quoted by Government as being a huge advantage to the Mayor's retrofit ambitions in London due to the high prevalence of solid wall homes here.