October 2013: The GLA commissioned a detailed report earlier this year exploring opportunities in London to use high volumes of typically lower-temperature waste heat. Further details on this study – London's Zero Carbon Energy Resource – can be downloaded here. And a recent presentation made at BRE's 'Developing heat networks in the UK ' also provides a good summary of some of the findings.
Heat is generated in London's tube network as a result of trains braking, underground lighting and from passengers. This heat is rejected through ventilated shafts at strategic positions along the network at temperatures ranging typically from 12-29 degrees.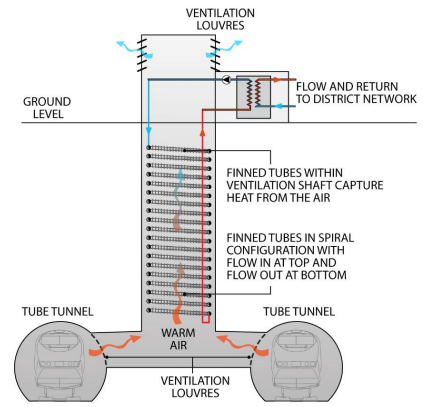 Most secondary heat sources need upgrading to higher temperatures to be useable in heat networks – this requires heat pumps. The minimum suitable temperatures for district heating is 55 degrees. Download the presentation 'Secondary Heat – London's Zero Carbon Energy Resource' here.