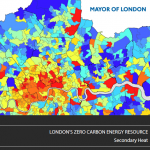 September 2013: Detailed GLA-commissioned study looking at "two particular categories of heat, both of which can be termed 'secondary sources': waste heat arising as a by-product of industrial and commercial activities; and the heat that exists naturally within the environment (air, ground, water)."
Details of the full report here (direct links below) the findings of which include:
For most secondary heat sources, their temperature is too low for direct use. It is therefore necessary to 'upgrade' them to a useful temperature using heat pumps. Heat pump efficiency is important for secondary heat source utilisation as it affects the cost and carbon intensity of the heat delivered and will impact London's electrical infrastructure.
Analysis shows that by using heat pumps to deliver heat at 70°C, the total heat that could be delivered from secondary sources in London is of the order of 71 TWh/yr which is more than the city's total estimated heat demand of 66 TWh/yr in 2010.
The proportion of London's heating demand that could be met by district heating networks operating at 70°C could rise to 30 TWh/yr by 2050, assuming ambitious retrofit programmes were implemented over that period.
Secondary Heat Study – Summary Report
Secondary Heat Study – Phase 1
Secondary Heat Study – Phase 2
Datasets for the study are available on the London Datastore