July 2013: A recent meeting of the London Infrastructure Group, part of the London Enterprise Panel (the local enterprise partnership for London) included a paper considering requirements for London's growing electricity infrastructure.
The paper highlights that "UK Power Networks (UKPN) is London's main Distribution Network Operator (DNO) for electricity serving all except the London boroughs of Hillingdon, Hounslow and Ealing. Scottish and Southern Energy serve these boroughs. As DNO UKPN's responsibility extends from the Grid Supply Points where it takes electricity at high voltages from National Grid to the supply of London's homes and businesses."
UKPN is currently consulting on its 2015 – 2023 Business Plan which is to be submitted to Ofgem.  Much of the detail around UKPN's proposals in the Plan have been discussed in recent meetings of the Mayor's High Level Electricity Working Group and an appendix paper to the London Infrastructure Group meeting considers some key elements of the Plan.
The papers report that the Mayor has raised concerns regarding future investment in London's electricity distribution infrastructure and that UKPN latest proposals "represent a step backwards regarding the prospects of UKPN investing in advance of need. It gives rise to concern about whether UKPN has taken sufficiently full account of the needs of the City of London and other central London boroughs facing business and development growth. The reason for the backward step is mainly attributable to the intervention of Ofgem" (some of these concerns on future needs were recently raised by businesses in the recent West End Commission report).
Investment in major substations has been reduced from £170 million to £100 million compared to the original draft. UKPN now includes only four of the planned six (plus Earls Court1) major substations for central London on a funded basis (see Table 1 below for details). The origin of the change is principally Ofgem's unwillingness to accept the remaining three substations as part of UKPN's regulated asset base, since they would amount to investment by UKPN in advance of an actual connection being requested.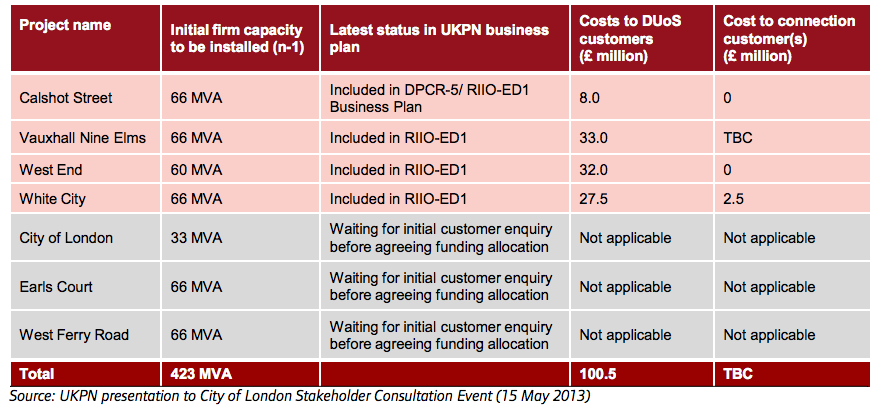 Interesting to note that other changes have been made to UKPN's forecasts of sustainable energy investment in response to comments to the original consultation. These include changes to the assumptions regarding the uptake of electric vehicles and to the infrastructure investment for Feed–in–Tariff eligible generation.