22 May 2013: After some delay, DECC have published their latest annual report for the Warm Front programme for the year April 2011-March 2012. Little information has been released on the Warm Front programme since early 2012, when measures delivered per parliamentary constituency were published.
The report indicates that London has – once again – been poorly served by the programme, with the capital having the lowest number of homes assisted. See graphic from the report below.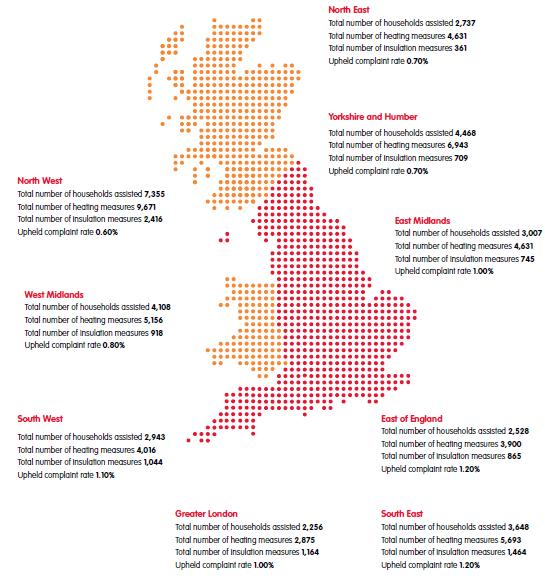 Warm Front was the Government's principal fuel poverty alleviation scheme and the only energy efficiency scheme centrally funded by Government [ie the various energy supplier obligation programmes that have operated over the past decade (EEC, CERT, CESP) are paid through by charges added to UK householders electricity and gas bills by energy companies]. The incoming Government decided to significantly reduce the budget of Warm Front – from  an annual spend of £345m to £110m in 2011/2012. This was further reduced to £100m in 2012/13 which was also decided to be the last year of the scheme.
The foreword to the annual report points out that "For the first time in the history of the scheme the budget available was not fully spent. The greatest reason for the budget not being fully spent was undoubtedly the low rate of applications received by the scheme." The Government came under significant criticism in 2012 as a result of this underspend, coming as it did at not only at a time of increasing fuel price rises, but also after the budget of the programme had been cut by 68%! A House of Commons briefing note from February 2012 provides details to all of this – and further info on the impacts in London in post here).
In relation to the final year of the programme – 2012/13 – the annual report for which we may not see for another year (!?) – the Government actually withdrew funds late last year from the Warm Front budget to pay for a number of new initiatives  – the Green Deal Pioneer Places programme, a fuel poverty programme and a collective switching scheme (details via the following link). It was not announced at the time that some £30m was drawn out of the Warm Front budget to fund these schemes  –  and only came to light earlier this year (see latter parliamentary questions from Shadow Secretary of State Caroline Flint to DECC here).