30 June 2014: The latest annual assessment report of energy and carbon savings secured through the Mayor's planning requirements has just been published by the GLA.
An energy assessment is required for each planning application referable to the Mayor, setting out how the London Plan energy policies will be met within the development. Specifically, applicants are required to set out how the planning applications apply the following energy hierarchy: Be lean: use less energy / Be clean: supply energy efficiently / Be green: use renewable energy. Further information on the London Plan energy policies can be viewed here.
The report provides an overview of the number of developments that have been approved by the Mayor and boroughs for planning, and importantly, the extent that these developments have committed to the use of sustainable energy solutions to help reduce their carbon and energy impact. The report summarises that – in 2013 alone – the London Plan's energy policies have supported:
circa £17 million of investment in combined heat and power (CHP) plant able to produce 25MW of electricity and a similar amount of heat – broadly equivalent to the amount required to supply 50,000 homes.
around £103 million of investment in heat network infrastructure for circa 41,000 communally heated dwellings
£13 million in photovoltaic panels and additional investment in other renewable energy technologies
Regulated CO2 emission reductions of 36 per cent more than required by Part L 2010 of the Building Regulations. This represents a circa 30 per cent regulated CO2 reduction compared to the new 2013 Building Regulations (ie London Plan policies are already directing developers to energy strategies delivering 30% more CO2 savings above the government's new building regulation requirements, which came into operation in April 2014).
Also provided is a summary of what has been secured over each of the past 4 years as a result of the London Plan's energy policies.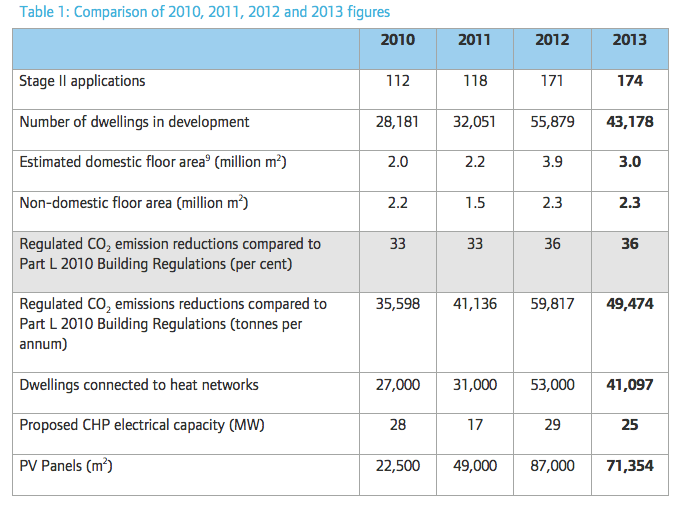 This highlights that potentially:
More than 150,000 new dwellings will be connected to district heating networks in London
Close to 100 MW of CHP capacity has been secured
And over 230,000 m2 of PV is to be installed.