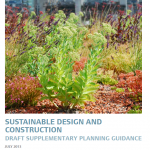 September 2013: The Mayor has issued for public consultation draft supplementary planning guidance (SPG) on Sustainable Design and Construction, which sets out that all major planning applications for developments submitted to the GLA from 1 October 2013 will need to provide CO2 emission savings 40% beyond the 2010 building regulation requirements. This requirement was originally set out in the 2011 London Plan CO2 targets for residential and non-domestic buildings (Policy 5.2). The draft SPG is available here and the deadline for comments is 21 October 2013:
The SPG adds to the London Plan climate and energy policies by providing additional detail on:
Optimising the use of passive design measures and energy efficiency solutions to help reduce energy consumption
Setting out minimum requirements for energy masterplans
Connecting to an existing district heating scheme
the use of CHP and onsite heat networks (and references that further information can be found in the 'District Heating Manual for London')
Pages 49-50 provide some helpful detail on the use of CO2 off-set funds stating that"Boroughs may agree with a developer for the developer to directly off-set any shortfall in carbon dioxide reductions from a scheme by installing a carbon dioxide saving project off-site. Measures could include directly funding or installing community energy and retrofitting projects". On the price of carbon, the SPG says "Boroughs should develop and publish a price for carbon dioxide" – but goes on to provide an example of using the Zero Carbon Hub's suggested price of £46 per tonne:
"  The overall contribution should be calculated over 30 years. For example,using the Zero Carbon Hub price equates to £46 x 30 years = £1,380 per tonne of carbon dioxide to be off-set."
The guidance goes on to say: "It is essential that boroughs identify a suitable range of projects that can be funded through the carbon dioxide off-set fund. Preference should be given to retrofitting publicly owned property as this would provide wider community benefit. Initial discussions suggest that schools, council buildings and social housing are the buildings that could be retrofit most readily. Another option could be establishing a borough wide revolving energy fund, where a loan is provided to local residents or businesses wanting to retrofit energy and water saving measures." Islington have recently published details of their own carbon offset fund – with a buy-out price starting at £950 – details here.
Paras 2.4.64 include some interesting new information with guidance on incorporating the use of demand side response measures, stating that:
"When negotiating with developers on planning applications, boroughs should encourage them to install systems that would enable the development to take advantage of demand side response … The Mayor has set up a permanent working interface with UK Power Networks to identify initiatives that each might take to support the development of demand side response measures within the UKPN network."