27 September 2012: DECC's latest issue of Energy Trends follows up from national Combined Heat and Power (CHP) dataset, published  in July's Digest of UK Energy Statistics (Chapter 7) (see also CHPA's press release for further information on this), to present the data in a regional format, providing some detail on the use of CHP in London. The article – Combined Heat and Power in Scotland, Wales, Northern Ireland and the regions of England in 2011 – can be downloaded here.
A number of things can be observed.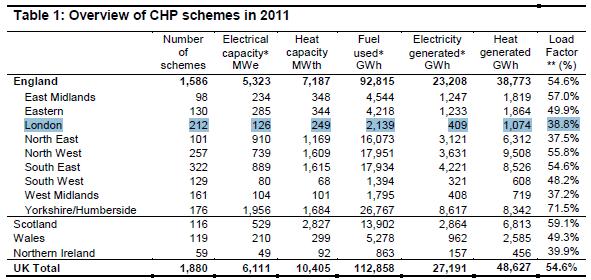 Table 1 highlights that there are 212 CHP schemes in London currently registered with the Government's CHP Quality Assurance programme (more details at www.chpqa.com). This means that these generation plant have provided details of their operation to the QA programme and qualify for the benefits of being classed as 'good quality' such as exemption from the Climate Change Levy. A full list of where these 212 schemes are not unfortunately in the public domain, however, DECC do keep a subset of these schemes (32 listed at the time of writing) on their CHP database (run the region report for London). Additional schemes should also be able to be identified on the London Heat Map. Note – there are likely to be more than 212 schemes – small scale (say around 100kWe and below) CHP engines may not bother registering with the CHPQA as the financial benefits of the CCL exemption may only be modest for such plant.
409 GWh of electricity were produced by these 212 CHP schemes in 2011. This represented  1.8% of the total CHP-electricity generated in England, and only 1.5% of electricity generated in the UK.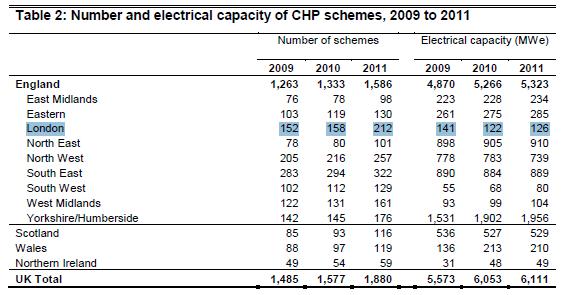 Table 2 however appears to show that, since 2009, there has been a net growth of 50 CHP schemes in London (ie some CHP plant may have been decommissioned – the actual number of new plant isn't provided – only the net figure of 50). There has been a considerable revision of the numbers since last year's dataset (for which, see story here) which reported that 188 Good Quality CHP schemes were operational in  London as at the end of 2010, as compared with the 158 seen in the table above. Overall a confusing picture!
More importantly, there appears to have been a massive downward revision in the overall CHP capacity operating in London:
Last year's article indicated that there was 185 MWe (electrical capacity) of CHP operating in London in 2010. In contrast, the revised numbers today state only 122 MWe for the same year (2010).
The latest data now reports that only 126MWe of CHP electrical generating capacity in London in 2011.
Hence, whilst this latest data indicates a 4MWe increase in 2011 compared to 2010 all previous reports have indicated that approximately 200MWe of CHP capacity operated in London. Hence, this latest data suggests that there is in fact far less CHP operational in London than previously thought leading to a considerable downward revision!
The 2011 statistics also report that this 126 MWe of CHP produced 409 GWh of electricity and 1,074 of heat GWh heat – a total of 1,483GWh energy in total – a drop by almost 50% of what we thought CHP was generating in London in terms of heat and power up to today as a result of previous DECC datasets.
All in all, this does little to help the achievement of London's 2025 25 per cent decentralised energy target – which is estimated in the Mayor's Climate and Energy Strategy as a total of 23,500 GWh of energy [p86 – see  chapter 4 of the Strategy for further information].