January 2012: A draft  London Riverside Opportunity Area Planning Framework (LROAPF) has just been published by the GLA, working with the London boroughs of Newham, Barking and Dagenham and Havering.
The LROAPF area covers over 3,000 hectares of east London, encompassing parts of each of the three boroughs.  The draft states that "Sustainability is an important theme that runs through the document. London Riverside is already part of a wider Green Enterprise District and home to a more concentrated Sustainable Industries District. Energy, waste and water are dealt with in some detail and the way they are inter-connected is brought out."
The OAPF technical appendices include an energy strategy identifying a number of key opportunities for decentralised energy production in the region. The development of these satellite district-heating networks, which could  interconnect over time, and hence  supply London Riverside with locally produced low to zero carbon and waste energy sources. The OAPF suggests that "In the longer term, the aspiration is to develop a district heating network across London Riverside to supply the heating requirements of existing and future development. (illustrated below)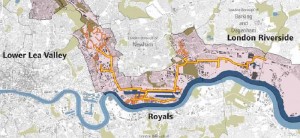 The concept of an East London heat network follows from work carried out by the London Development Agency (LDA) in relation to the development of the London Thames Gateway Heat Network (LTGHN).
Plans for the decentralised energy network are set out in the main LROAPF consultation draft and also in the Energy Strategy contained in Technical Appendix 5. The closing dates for comments is 10 February 2012.