November 2013: The Guardian highlighted in a recent story that the London HQ of Al Gore's business is to be based in a new office development on Regent Street which has included a wide array of onsite energy measures installed including a gas-powered fuel cell.
"Climate campaigner and former US vice-president Gore said the £400m Quadrant 3 redevelopment showed a "sophisticated commitment to sustainability". The headquarters of his sustainable investment company, Generation Investment Management, will be sited in the new buildings.
"The cell was developed by US company FuelCell Energy. It will emit 38% less carbon dioxide than using electricity from the grid and heat from gas-fired boilers, according to the crown estate, which says 350 tonnes of carbon dioxide emissions will be saved per year. Unlike fossil-fuel-burning power plants, the fuel cell produces power with virtually no nitrogen oxide (NOx), sulphur dioxide (SOx) or particulate matter (PM) pollution.
The new plant forms part of the central energy system that serves 500,000 sq ft of offices, shops, flats, restaurants and hotels in the Quadrant development." Read the full Guardian story here.
Further detail on the installation of the fuel cell can be read here – which has been undertaken by Edinburgh based Logan Energy. The Quadrant 3 development has a number of other onsite energy measures installed (including a Combined Cooling Heat & Power plant, thermal stores and photovoltaics – see diagram below), as set out in the property brochure.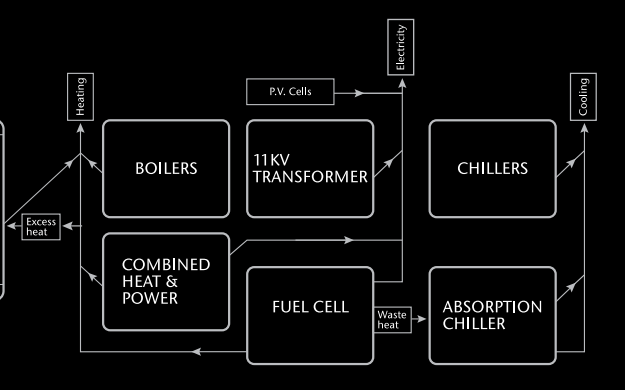 Another new London development to include fuel cell technology is that on 20 Fenchurch Street (more commonly known as the 'Walkie Talkie' building) which has installed a 300 kWe fuel cell, details of which can be read here and here.
Transport for London installed a fuel cell CHP in their Palestra building in Southwark back in 2010, details of which – including a video presentation – can be seen here and here.