October 2012: Ofgem have just published their latest newsletter on the Feed in Tariff (FITs) scheme which provides an overview on the number of installations that are now participating. The newsletter sets out that as at June 30 2012:
A total of 285,235 renewable installations have been registered under the scheme since 1 April 2010
1,241.05MW of Total Installed Capacity (TIC) has been registered under FITs  since 1 April 2010; and
A total of £102,024,574.64 in FIT payments were due to generators in the quarter 1 April to 30 June 2012.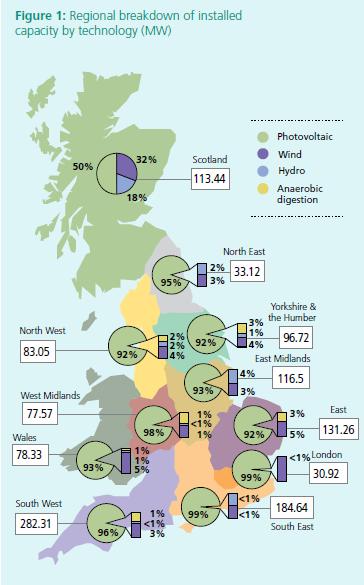 The newsletter includes a figure (above) providing a regional breakdown of generation (in megawatts/MW) across the UK and clearly shows that London has the lowest installed capacity of FIT capacity at only 30.92MW. Compared with the highest region, the south-west, London has less than 1/8th of the capacity installed. Download the FITs latest newsletter here.