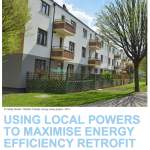 August 2013: CAG Consultants on behalf of the GLA have developed a new toolkit – Using Local Powers to Maximise Energy Efficiency Retrofit Toolkit – "to help London's councils identify and implement solutions to help attract investment and delivery for energy efficiency measures.  It focuses on three commonly cited challenges: planning, data and logistics." The report highlights that:
The opportunity for energy retrofitting in London's housing is immense: more than one in five of the U.K.'s solid walled homes are in the capital, as well as 14 per cent of England's fuel poor homes.
Energy efficiency projects can regenerate entire communities, drive up housing values and engage residents in wider issues of sustainability
Retrofitting also provides an opportunity for pioneering local authorities to get an edge in the growing energy efficiency market and generate local jobs.
London has the highest proportion of properties in conservation areas of any UK city – around 500,000 properties. For these properties, planning permission is required for most works which change the external appearance of the property.
The guide provides some helpful references to planning guidance issued by Camden (also see here and here for further information) and Haringey to help support energy efficiency retrofit measures such as solid wall insulation. A further barrier often faced by retrofit programmes has been identifying the most vulnerable homes that would benefit from increased levels of insulation as a priority,  and the report provides some useful information on data-sharing initiatives undertaken by Southwark and Haringey councils, working alongside colleagues in housing and benefits teams, to help overcome this [p 27-30].