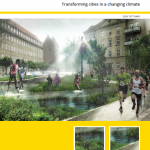 July 2016: A new European Environment Agency (EEA) study "Urban adaptation to climate change in Europe 2016 – Transforming cities in a changing climate" has just been published. The report  examines whether action on adaptation has led to more climate-resilient cities and if not, what needs to be changed.
The EEA has a few references to work undertaken in London such as:
"London is installing white panels on top of its public transport buses to reflect the rays of the summer sun and keep the vehicles cooler" (which refers to a 2014 article here). and that;
"London held a workshop on adaptation indicators in 2015 but as of November 2015 had not yet decided how it will take the work forward" (it is not immediately clear which workshops this comment refers to).
No mention is made in the study to London's authoritative Climate Change Adaptation Strategy from 2011 or the London Plan's climate change adaptation policies. (NB Mayor Boris Johnson had committed in February 2015 to produce an update to the adaptation strategy sometime in 2015. Following the non-publication of this update, responding to a question a year later, he committed to the update being produced before his departure as Mayor (May 2016) – however, as yet, no update has been released).