October 2013: Two recent sources issued by DECC provide data on the use uf Combined Heat and Power (CHP) plant in London. A useful article in DECC's latest issue of Energy Trends provides a breakdown of CHP use in the regions, providing number of schemes, output, capacity installed and much more. Table 2 from the article is reproduced below.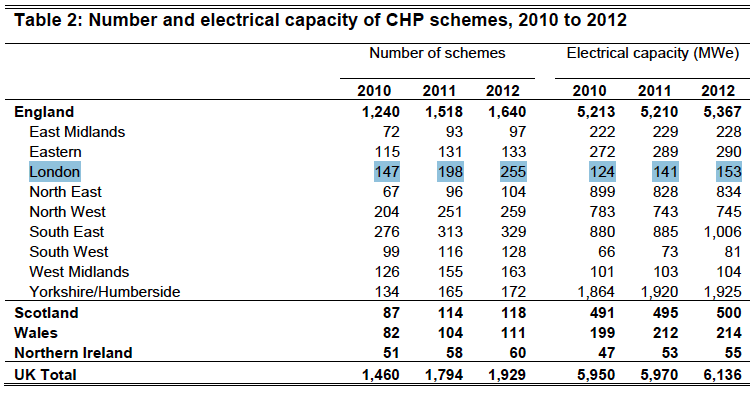 The data shows a significant increase in the number of CHP schemes operating in London over the past two years (147 – 255) – a 73% jump – whilst generation capacity has grown by 29MW, reflecting the typically smaller scale nature (ie <1MWe) of CHP engines being installed in the capital. Of concern however is that Table 2B (below) from the article reveals that, though the capacity level of CHP has increased – the key metric – the output of decentralised lower-carbon heat and power in London – has actually fallen over the past two years. CHP electricity generation has fallen by 1% and heat generation by 2% in 2012 as compared to 2010 numbers. More promisingly however, the statistics indicate that the 2012 levels show a recovery a far steeper decline in output over the period 2010 to 2011 – so hopefully CHP is now 'on the up'…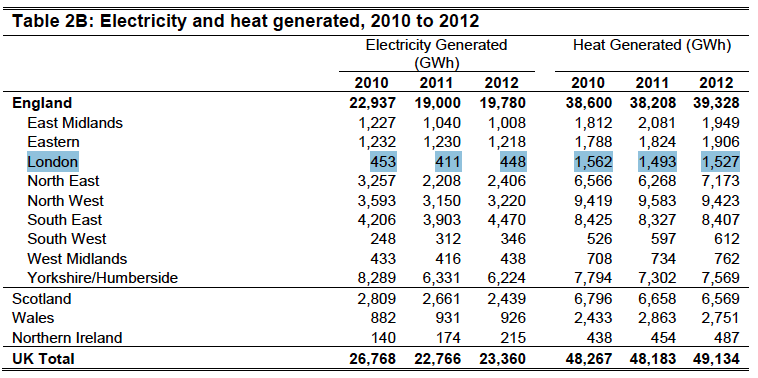 As mentioned, Table 2 states that 255 CHP schemes are operating in London. There is unfortunately no definitive list of where all of these sites are installed. DECC's Public CHP Database has recently been updated however and does provide details on 53 sites (which can also be viewed on the following  spreadsheet). Though these make up only one-fifth of the total number of sites, the capacity of these 53 sites total 126MW of electrical capacity, or 82% of the total London level. Sites listed on the database above 1MWe are listed below.
| | |
| --- | --- |
| SITE NAME | kWe |
| Thames Refinery, Tate and Lyle New Scheme | 31,500 |
| CITIGEN CHP. CITIGEN (LONDON)  LIMITED | 15,800 |
| ERITH OIL WORKS | 14,010 |
| HARROW SITE, KODAK LIMITED | 12,250 |
| SOUTH KENSINGTON CAMPUS CHP PLANT | 9,000 |
| MOGDEN STW | 8,320 |
| MoD MAIN BUILDING, COFELY LIMITED | 4,900 |
| ST. GEORGES HOSPITAL | 4,376 |
| DEEPHAMS STW | 3,320 |
| PUMP HOUSE | 3,200 |
| JOHNSON MATTHEY – ENFIELD | 2,913 |
| NATURAL HISTORY MUSEUM | 1,819 |
| SOAS CHP, THE BOILER HOUSE | 1,450 |
| BARKANTINE, BARKANTINE HEAT & POWER COMPANY | 1,358 |
| PALESTRA, TRANSPORT FOR LONDON | 1,034 |