April 2016: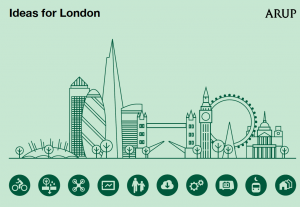 A further contribution of potential actions for an incoming Mayor – this time by Arup – in report just published 'New Ideas in London'. In the report Arup identify "five areas that the new Mayor should focus on during their first term in office." Amongst these are a couple considering energy and climate issues – a summary of which follow below:
Driving down corporate carbon emissions
The Mayor has the authority to help adjust London's procurement protocols to include corporate carbon performance.
The new Mayor could immediately commission a consultation led by the GLA's Head of Legal and Procurement to investigate legislative options.
Electric bus battery switch scheme
Could London work with existing suppliers to design buses that allow their batteries to be switched out quickly and smoothly without disrupting operations? This could take place at optimum points on the network and could ensure that operations are not penalised by the time it takes to charge bus batteries.
Other areas of interest include 'A London Blue Grid' and 'Walking in a Green London'.