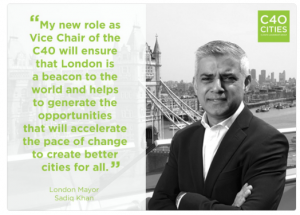 25 July 2016: The Mayor has today been appointed a Vice Chair of C40 Cities, representing the Europe region on the group's steering committee, alongside Copenhagen. C40's press release included the following statement from the Mayor:
"… I want London to be at the cutting edge of new green technologies, generating the growth and jobs of the future. My new ambitions for Energy for Londoners, and my new role as Vice Chair of the C40 will ensure that London is a beacon to the world and helps to generate the opportunities that will accelerate the pace of change to create better cities for all."
The next major convening of the C40 Steering Committee will take place at the C40 Mayors Summit, which will bring together mayors and sustainability leaders from all over the world. It will be held in Mexico City November 30 – December 2, 2016.