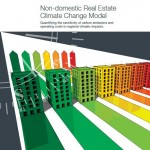 March 2012: Research just released by the Royal Institute of Chartered Surveyors (RICS) highlights the challenges that many buildings will face in the future as a result of a changing climate. Increasing energy use is widely predicted responding to summer temperatures  up to two degrees higher by 2030 and up to two degrees cooler in the winter. In particular, the report highlights that it is London 's schools, offices and hospitals that will incur the largest increase in electricity demand as more power is used to maintain a 'comfortable environment'. Read the RICS news release here and download the report – the Non-domestic Real Estate Climate Change Model here.
The report states [p10] that this " research has been made possible only with the release of 64,803 Display Energy Certificate (DEC) records, secured with the help of the Urban Land Institute, which facilitated several Freedom of Information requests to obtain these data." Unfortunately this data doesn't appear to have been made publicly available by the Urban Land Institute – however – a simple map of DECs has been created so that individual buildings ratings can be viewed – see www.less-en.org.
Similar data was however also obtained recently by the Centre for Sustainable Energy (CSE) and has been posted online for download at www.cse.org.uk. The spreadsheets contains data on energy use, floorspace, emissions and efficiency ratings for 40,000 buildings of over 1,000m2 in England and Wales that are visited by the public. See an earlier post for additional details.