December 2013: An oral evidence session between officials and the London Assembly Budget & Performance Committee (see earlier post for details) highlighted the slow progress of the Mayor's domestic energy efficiency retrofit programme RE:NEW. A new paper (06a(v)) presented to the 18th December meeting of the London Assembly Budget Monitoring Sub-Committee provides some data helping illustrate the extent of the shortfall.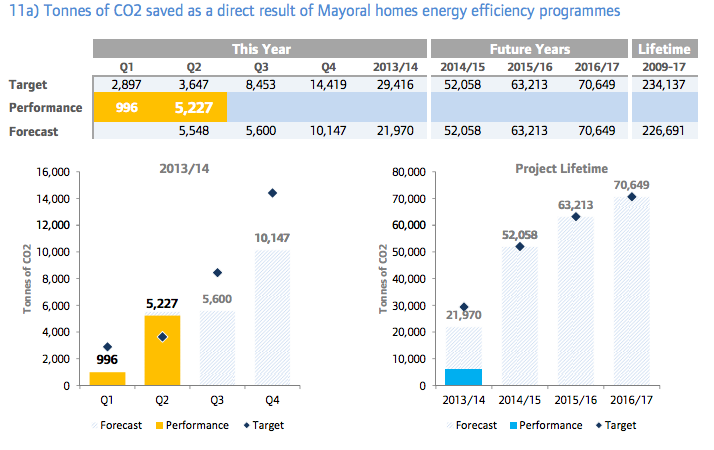 The current forecast for 13/14 (right hand chart) shows that RE:NEW is predicted to just miss the project target – however, the performance level to date indicated shows that even this reduced level of delivery is still some way off.  The oral evidence session (referred to above) in fact suggests that only 3% of the 13/14 target has as yet been achieved (996 tonnes of CO2 compared to a target of 29,416 – earlier post). Paper 06a(v) provides some explanation for the slow progress:
Delivery  of  the  RE:NEW  Phase  II  carbon targets  is  significantly  delayed  and  contractors  will  miss  their  obligations.   This  is  largely  due  to  delays  in  availability  of  ECO  (government  subsidy). Delivery  of  the  carbon  savings  from  the  interim  Support  Team  has  exceeded  targets  for  quarter  two
Performance  payments  have  been  withheld  from  contractors  and  the  funding  is  being  reallocated  to  the  RE:NEW  Support  Team  in  order  to  reduce  the  shortfall  in  performance. However, this  is not sufficient  to  completely  mitigate  the  lower  savings  from  RE:NEW Phase  II  and  this,  combined  with  a  delay  in  confirmation  from  the  European  Investment  Bank  for  ELENA  funding  prior  to  commencing  procurement  of  the  full  RE:NEW  Support  Team,  means  its  is  forecast  75  per cent  of  2013/14  carbon  targets  will  be  achieved.
The  targets  for  future  years  have  been  reviewed  and  updated  in  light  of  the  above  and  as  planned.   They  have  been  reduced  for  2014/15  and  2015/16,  but  an  additional  year  of  delivery  (2016/17)  has  been  added,  which  leads  to  an  increase  in  carbon  savings  overall – albeit  over  a  longer  period.

The paper goes on to report latest CO2 saving estimates of two further Mayor's climate change projects – RE:FIT (the public sector building retrofit project) and the London decentralised energy programme. The latter states that "Significant progress has been made on several projects, particularly with regards the Lea Valley Heat Network, Lakeside Energy from Waste, Greenwich Power Station and the Kew Gardens Decentralised Energy scheme."