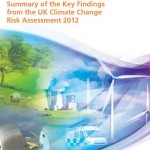 January 2012: The Government published the UK Climate Change Risk Assessment (CCRA) on 25 January 2012, the first assessment of its kind for the UK which highlights the top 100 challenges to the UK faces as a result of a changing climate. Amongst the many changes predicted in the assessment, a number are directly in relation to London, specifically:
On average, hot weather accounts for around 1100 premature deaths a year in the UK. By the 2050s, this figure is projected to increase by between 580 and 5900, with the greatest risk in London and southern England.
Summer overheating is projected to emerge as a significant risk, potentially contributing to heat-related health problems. In London, for instance, the number of days in an average year when temperatures rise above 26°C is projected to increase from the current figure of 18 to between 27 and 121 by the 2080s.
The Evening Standard summarised the findings thus: London 'facing killer summers in climate peril'!
Chapter 5 of the London Climate Change Adaptation Strategy (issued in October 2011) focuses specifically on the issue of overheating in London as a result of climate change and commits to taking forward a number of actions including:
working  with boroughs to identify opportunities for combined cooling, heat and power and other forms of low-carbon cooling and
promoting 'cool roof technology' (highly reflective, well-insulated roofs) in London to reduce demand for mechanical cooling.