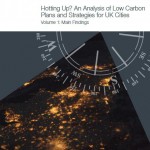 28 March 2012: Interesting – and detailed – report published by the Royal Institute of Chartered Surveyors (RICS) analysing progress by UK cities work on reducing their carbon impact through the development of climate change action plans and related actions. One of the key recommendations of the report sets out that Government should:
Develop a new policy framework which recognises the role of cities in the climate change and low carbon agendas. The majority of the UK's population lives in cities, and they are vital in providing a focus for tackling climate change and responding to the low carbon agenda through technology deployment and access to finance. A new 'low carbon city' framework,which builds on the existing DECC pilots, should be developed and the concepts of 'low carbon city' and'low carbon society' should be clearly defined within this framework.
The report and accompanying appendix contains significant amounts of analysis regarding London metrics on energy and carbon in relation to other cities.  Download Hotting Up? An Analysis of Low Carbon Plans and Strategies for UK Cities here.