6 January 2021: All too often the regional impacts of climate and energy policies are ignored. As we bring in further actions to decarbonise our economy it's increasingly clear that some parts of the country will benefit or be adversely impacted than other parts – and it's something that needs to be better understood if we are to ensure that the transition we undertake to a cleaner energy system is a fair transition, taking into account those jobs and industries that will likely need to close.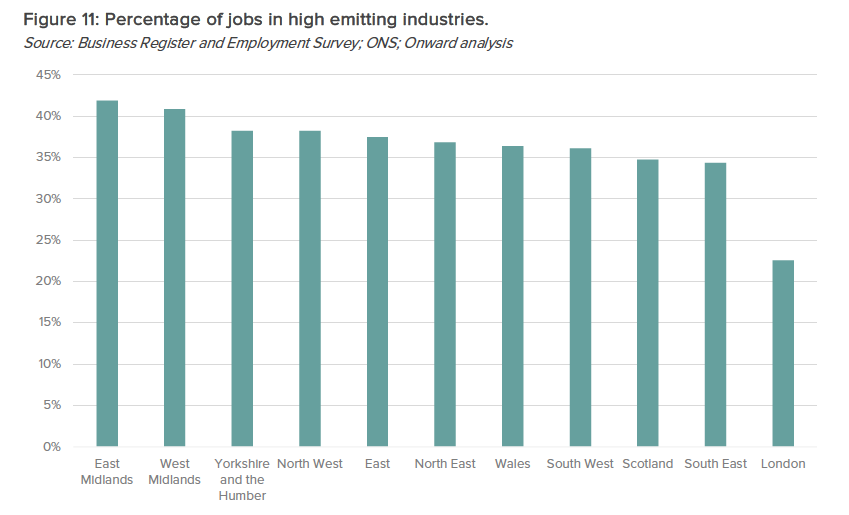 A new report by centre-right thinktank Onwards, Getting to Zero, touches upon this issue highlighting that: "if we look collectively at all the industries responsible for more than 2% of annual greenhouse gas emissions in the UK, we see that these industries are concentrated more in some parts of the UK than others. On a regional level, East Midlands, West Midlands and Yorkshire and the Humber, have the highest proportion of jobs in high emitting industries: 42%, 41% and 38% respectively. As Figure 11 shows, the industrial and manufacturing heartlands in the Midlands and North are far more likely to experience economic disruption during the net zero transition than the South East and London. This may be positive – in the form of new green jobs, or it may be negative through job losses – but the fact remains some places will be affected more than others."
The report undertakes further mapping by Parliamentary constituency and sets out that "urban areas have the lowest reliance on high emitting jobs and transport. Notable examples are Islington and Hackney, both of which are areas in the bottom ten for both high emitting employment and transport emissions. This is likely due to the high reliance on the service economy over a production economy and superior public transport links in dense urban areas like London." This is a first in a series of papers planned by Onward – and worth a quick look at.