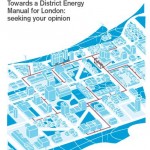 January 2012: The Mayor has issued a discussion paper requesting comments around detailed design guidelines for district energy projects in London. The 'District Energy Manual for London'  will outline how such schemes are procured and designed and also how heat networks can grow and interconnect over time into an "integrated, efficient, secure and low carbon district energy network serving the whole of London." It is hoped that the manual  will become the standard reference for developers and heat network designers and that it will underpin energy masterplans and planning agreements across London where heat networks are envisaged.
The discussion document outlines the scope, intention and topics considered for the future London District Energy Manual and seeks comments in relation:
Suggested design parameters for heat networks
Suitable heat network operating temperatures
The use of Heat Interface Units (HIUs)
How to plan for future district heating networks; and also
Best practice examples of district energy systems
The deadline for comments  is 3 February 2012 with a final version of the manual planned for publication towards the end of 2012.