May 2014: A new PWC study "analyzes the trajectory of 30 cities, all capitals of finance, commerce, and culture—and, through their current performance, seeks to open a window on what makes cities function best". Looking at the 'Sustainability and natural environment' criteria – London came around midway.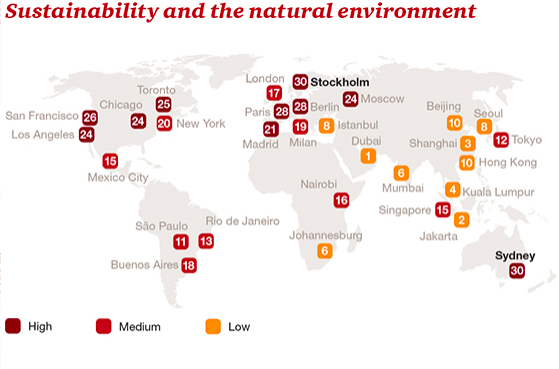 Page 42 of the report provides some detail behind this sustainability criteira and the ranking of the cities, with London scoring 79 points – and Stockholm coming first with a total score of 121 points – against categories surveyed which included 'thermal comfort', 'recycled waste', 'air pollution', 'public park waste' and …'natural disaster risk'.
The study also reports that across all sectors surveyed, which include areas such as innovation, technology, and transportation and infrastructure, London has the highest overall score by "a good margin".. which is nice!