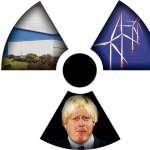 15 September 2013: The Mayor has decided to set forth his views on UK energy policy in the national press once again. After writing to The Times back in July (see below), Boris has now penned a piece for The Sun (behind paywall…but fortunately reported elsewhere), where he states that: "the country needs to 'grow some collective cojones and launch the nuclear energy programme that this country has too long delayed… Next, we must stop pussy-footing around, and get fracking. Even if we have 100s of fracking pads, they are nothing like as ugly as windmills, and they can be dismantled as soon as the gas is extracted."
The Mayor continues in a similar vein in the article (also reported here 'Boris on our 'pathetic apology' for an energy policy') railing against wind turbines – echoing views from a radio interview he undertook on LBC earlier this year (Wind farms couldn't pull the skin off a rice pudding, says Boris Johnson).
Boris has previously used his weekly Daily Telegraph column to champion gas fracking (Ignore the doom merchants, Britain should get fracking) and much of the commentary for The Sun article was previously set out in a letter the Mayor sent to the The Times a few months ago:
" Sir, Many people have not yet woken up to the reality that the population of London is now growing faster than any city in Europe. As I make clear in our 2020 Vision, this demographic explosion is placing huge demands on our infrastructure — including power generation. It is a tragic comment on Labour's failure to plan ahead that in only two years our electricity capacity headroom (the difference between demand and supply) will be down to 2 per cent. We will have to ask some of our more energy-intensive industries not to operate at peak times, the kind of policy we last saw in the 1970s. It is time for maximum boldness in energy supply. I fully support the Government's drive for nuclear power, and if reserves of shale can be exploited in London we should leave no stone unturned, or unfracked, in the cause of keeping the lights on.
Boris Johnson Mayor of London" July 2 2013
That letter was a response to energy regulator Ofgem's capacity report which set out that "electricity supplies are set to tighten faster than previously expected in the middle of this decade". Energy security appears to have become a greater concern to the Mayor since raised by London businesses, and has led to the establishment of a London 'High Level Electricity Working Group' coordinated by the GLA.
Whilst security of energy supply issues are a real concern, the Mayor's choice of solutions are of no real help at all. Nuclear negotiations have stalled over the past year, and even if agreement were reached today, the first power produced by a new nuclear plant is the best part of a decade away – well after the 2015 capacity concerns. Discussions around shale gas have become increasingly polarised: whatever the final outcome, it is unlikely that fracked gas will have any significant role to play in the nation's energy mix for some time.