March 2016: …and so after eight years, we come to Boris's last question time as London Mayor! And it's good to see that energy and climate issues featured significantly yet again – a full list of which are posted here. In addition, a video has been posted online by London Assembly Green Party member Jenny Jones of her questions to the Mayor about a shortfall in his domestic energy efficiency programme RE:NEW.
And on that shortfall – Jenny Jones states that 95 per cent off the Mayor's 1.7m home retrofit target has been missed with only 80,000 cavity and loft installations  achieved out of a target set by the Mayor of 1.7 million. In response, the Mayor states:
CO2 has reduced 14% since the programme began – in spite of London economic growth of 20%;
London has significant challenges on insulation due to the low incidence of cavity wall homes and conservation areas;
The Green Deal "wasn't working well"
To compensate he has recently introduced a London boiler scrappage scheme;
After being called a "minnow" on London climate change action by Jenny Jones, when compared to other city leaders such as former New York Mayor Bloomberg and former California Governor Arnold Schwarzenegger, the Mayor responded that 'he hasn't been swanning  off around the world on climate change junkets … to give good green sermons"
The Mayor's 2011 Climate Change Mitigation and Energy Strategy actually states a 2015 target of retrofitting 1.2 million homes. And the June 2015 update to the Strategy sets out that "By the end of the 2013-14 financial year, over 100,000 homes were visited through the Mayor's retrofit programmes. Coupled with wider market delivery, 500,000 home have been retrofitted across the capital", this wider market delivery referring to the number of homes delivered through the Government's ECO programme.
The disastrous cuts to ECO and failure of the Green Deal have dramatically reduced the effectiveness of the Mayor's energy efficiency programme RE:NEW, a recent MQ stating that in "the 12 months from October 2014 RE:NEW supported the retrofit of over 4,500 homes."
A lot depends on what is meant by retrofit: the initial phases of the RE:NEW programme visited homes on a specifically identified area basis, providing households with a number of free "easy measures". These visits where meant to unlock additional, more significant, retrofit action in the visited households, such as the installation of  loft, cavity or solid wall insulation. Follow up action by households was however fairly limited (only a few per cent) – as has been set out in the following research paper.
It's clear from a recent MQ that the RE:NEW programme has been adversely impacted by the Government's disastrous changes to its ECO programme, and the flawed nature of the Green Deal. The latest Government data shows that, despite the RE:NEW programme being in place to stimulate the uptake of energy efficiency in the capital, London still has the second lowest number of ECO measures installed (per 1,000 households) across UK regions.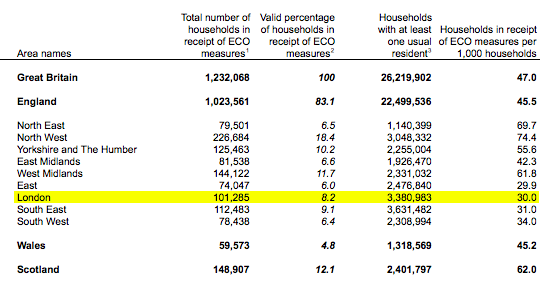 Provisional number of households in receipt of ECO measures by region, up to 30th June 2015 (DECC spreadsheet)