November 2013: A news release from Imperial College highlights a recent study examining the energy consumption of all 198 urban local authorities in the UK, including 33 boroughs in London.  Dr James Keirstead has developed a "new method that draws on three different measures of energy efficiency, currently used by city planners, to create the ranking. The aim was to find the fairest methodology for determining energy efficiency that could give planners an improved way of spotting best practice, leading to more energy efficient and sustainable policies in the future."
"The London boroughs of Barking and Dagenham and Hackney topped the league table of all UK urban areas analysed in the study…This may be because both are low income areas, equating to lower energy usage. Residents of those areas are also more reliant on public transport and these boroughs lack energy-intensive manufacturing and commerce, which may also be other factors that explain why consumption is lower."
The news report is a very short summary of a detailed research paper published by Dr Keirstead in technical journal Energy Policy (which unfortunately has a price tag associated with downloading the paper). The table from the paper providing a ranking of UK local authorities by average energy efficiency score is reproduced below: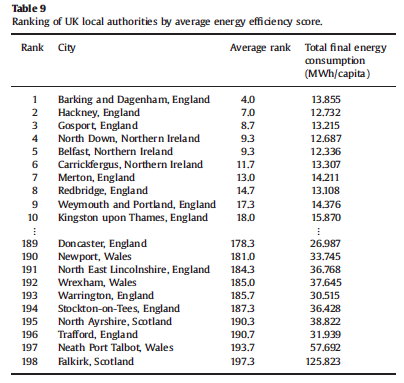 Other London boroughs within the top 10 are Hackney, Merton, Redbridge and Kingston. Oddly, the top two ranked London councils are both within inner London, however, the remaining three in the 10 are all suburban local authorities.
Local authorities in England have now reported to Government on energy efficiency activities in their area in HECA update reports – for more of which, see here.