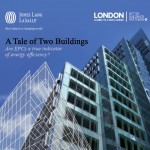 December 2012: Jones Lang LaSalle with the Better Buildings Partnership have issued the output of some interesting work they have undertaken: "Using data gathered from over 200 buildings over the past four years, we've measured the actual energy performance of BBP members' managed properties in London with surprising results…There is little or no correlation between EPC ratings and actual energy performance". This is something often raised by EPC assessors, and so it is useful to get this comprehensive research confirming this view.
The report concludes that:
"If the commercial property industry is to succeed in achieving the Government's ambition of cutting the associated CO2 emissions of the built environment, it is imperative for the industry, backed by Government direction, to focus on actual energy performance rather than just 'design intent'. We have shown that there is little or no correlation between a building's design (as measured by its Energy Performance Certificate) and its actual consumption.
The BBP members' portfolios achieved a reduction in the associated CO2 emissions of 8% and made a saving of more than £4 million in energy bills, between 2009/2010 and 2011/2012. If the level of success achieved by BBP members were applied to the total existing office stock of Greater London, savings could be in the order of £70 million."
Somewhat disappointingly, the publication of this research was very shortly followed by the following news report from the Government Minister overseeing this policy concerning extending the coverage of EPCs:
U-turn over compulsory energy assessments for commercial buildings
"Correspondence from building regulations minister Don Foster, confirms that plans for compulsory display energy certificates (DECs) for the private sector have been dropped. Instead, the commercial sector will be required to obtain less stringent energy performance certificates, which measure projected energy use. Display energy certificates, which measure a property's actual energy performance, are already compulsory for public buildings."
The BBP report includes links to a number of London building case studies which are listed below:
Case Study: 10 Exchange Square – British Land Download Case Study
At 10 Exchange Square, British Land brought together all parties involved in the building to work on sustainability initiatives. Over a period of two years, this collaborative approach has saved 1,530 tonnes of CO2, and £235,000 on occupiers' energy and water bills.
Case Study: Prospect House – Hermes Real Estate Download Case Study
At Prospect House, Hermes Real Estate worked with the occupier, NBC Universal, and the Managing Agent, Jones Lang LaSalle, to implement sustainable technologies and management strategies, as part of its Responsible Property Management programme. In its first year, this achieved a 15% reduction in annual CO2 emissions.
Case Study: 40 Grosvenor Place – Grosvenor Download Case Study
Since installing an extensive automatic meter reading (AMR) system at 40 Grosvenor Place in 2006, Grosvenor has saved occupiers £676,600 on energy bills and has cut CO2 emissions by 17,650 tonnes.
Case Study: 50 Pall Mall – Legal & General Property Download Case Study
Legal & General Property has cut gas consumption at 50 Pall Mall by more than half in just one year, through proactive management, engagement with occupiers and refurbishment works. This has contributed to annual energy cost savings of over £40,000.