April 2013: Great blog of a Green Deal 'journey' by sustainability expert Sofie Pelsmakers. Sofie started the process with a free Green Deal energy assessment offered to residents and business in Haringey (which is funded through DECC's recently Green Deal Pioneer Places funding).  These free assessments are still on offer with the deadline recently extended to 30 April – more here.
Having had her assessment finalised – Sofie appears now to be struggling to secure Green Finance: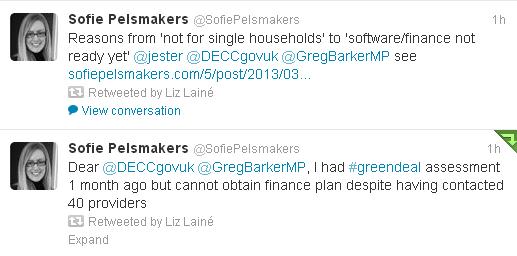 DECC issued their latest Green Deal and ECO monthly statistics last week with Greg Barker stating that "It is clearly very early days but the latest figures on the Green Deal show that this new market is gathering real momentum. 9,268 Green Deal assessments taking place in just over two months is very encouraging and shows a genuine interest from consumers."
The statistics do not however provide a breakdown of how many of these assessments came out of activities through the  Energy Company Obligation (ECO) process rather than directly as a result of households taking up the Green Deal. Additionally, the Green Deal Finance Company have stated that it is "yet to sign its first Green Deal Plan with a householder, but suggested it would not be long before it did. "There is one good to go and we are reviewing two others"".
Green Deal statistics for London will be available from DECC in June.